Datça is a  charming town that sporting activities. There are a lot of activities, that people can acsees their leisure time. There are 11 different activities.Good holiday.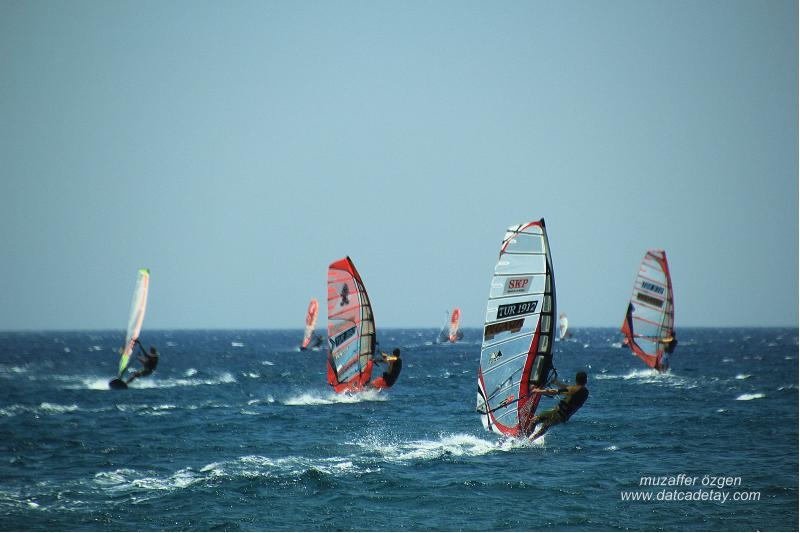 1- Enjoying the sea blue flag beaches.
Kumluk, Hastaneönü, Taşlık are in the city center. You can swim and sunbath on these beaches. There   are restaurants and cafes around them. At night you can have a nice  romantic dinner on kumluk beach.
2- You can participate in the union day boat tower and boat trips.
You can see beatiful bays and unique vievs of the sea that can be reached by land by hiking on Aegran side.
3- The trips to the bays on the mediterrean
You can make trips by your cars or minubus. Hayıtbükü, Kızılbük, Ovaükü, Palamutbükü are touristic places. After this beautiful sparkling waters should enjoy the privilege of dining at seaside restaurants.
4- Trekking, Cycling, Water and wind sports,
Datça is one of the places available for sailing with the afternoon wind. A leg of Turkiye windsurf championship is made Datça every year. Flow Datca Surf Surf Resort – Beach Hotel in tourist facilities such as surfing and sailing courses are given.
5- Fishing tours, underwater diving sports, amateur fishing.
There is a regular fishing boats from Datça Harbour. dive boat leaves from the harbour for underwater sports. Diving in done with experienced divers. Many coral reef located in Datça coast.
6- Visiting ruins and swimings in Knidos to watch wonderful sunset.
Knidos day is a wonderful thing to watch the sunset, terraces and cliffs overlooking the Aegean sea with your loved ones that moment, another taste of watching your friends.
7 – Afternoon trips
After swimming and sunbathing you can visit sight seeing places in the afternoon. İt is exciting walking on the stone streets in Eski Datça. Famous poet of turkey Can Yücel's house that has also spent the last years here.You can visit Mehmet Ali ğa konağı, olive farm in Reşadiye. Datça wineyard  is across the Kızlan mill. You can take picture in historic mill.
8- Stroll through Betçe villages.
You can see art work and artifacts at Knidos Academy in Yakaköy. You can buy agricultural development cooperatives and walk towards Ağa Mansion in Sındı.
9- Campping and having picnic
It's forbidden to camp in forested areas of Datça. There are camping places in city center ( Ilıca ) and Aktur. You can have picnic and swim in Gereme, Ovabükü, Gerence  Kurubük, Bağlarözü, Domuzini bays.
10- Breakfast
Nice way to start day is to have breakfast in rural areas interwined with nature. You can eat delicious fresh village products and drink yayık ayran
11- To pursue artistic a ctivities
Artistic activities are increased in summer. Music and artistic performans in Anfi Theatre, art house events.
You can get more information about these activities from Datça Detay pages.